Live Arts Bard
Elephant Room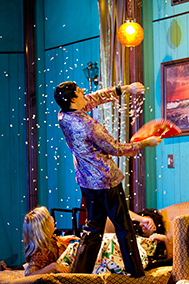 Friday, December 13 performance is followed by a discussion with the cast and Gideon Lester, director of theater programs

Starring Dennis Diamond, Marcus Pocus, and Daryl Hannah
Written by Steve Cuiffo, Trey Lyford, and Geoff Sobelle in collaboration with the magicians; directed by Paul Lazar

Three magicians. One show. Zero boring stuff. Sub-zero intelligence. It's time to make it all add up . . . in the Elephant Room.