Hudson Valley Chamber Music Circle Presents
The Juilliard String Quartet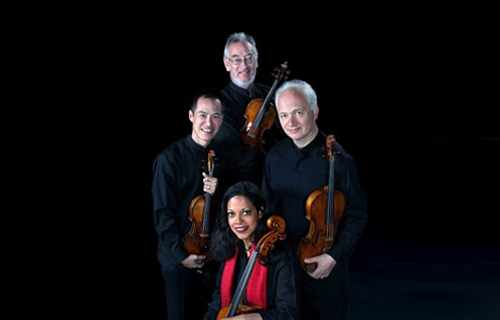 Joseph Lin, violin
Ronald Copes, violin
Roger Tapping, viola
Astrid Schween, cello

Béla Bartók: String Quartet No. 1
Ludwig van Beethoven: String Quartet in B-flat major, Op. 130 with Grosse Fuge

The price of a Donation ticket includes a $100 tax-deductible contribution to HVCMC. Ticket sales cover only a fraction of concert costs, and contributions are very much appreciated!
---
"Each of the four has a notably beautiful tone, a sound that sings out but also blends. They show a shared understanding of the music they play; every bow stroke adds to its meaning and its integrity."
— Chicago Tribune
---
"Whether playing Beethoven, Schubert, Bartok or Carter, the Juilliard Quartet remains unsurpassed in bringing attention to details and expressive devices."
— Cleveland Plain Dealer
---
"The Juilliard String Quartet, in its more than 50 years, has made it a point of honor to approach contemporary pieces with the same care and respect as it would established classics, and to approach antique masterworks with the sense of excitement and adventure it would the newly minted."
— The New York Times