Hudson Valley Chamber Music Circle Presents
Calidore String Quartet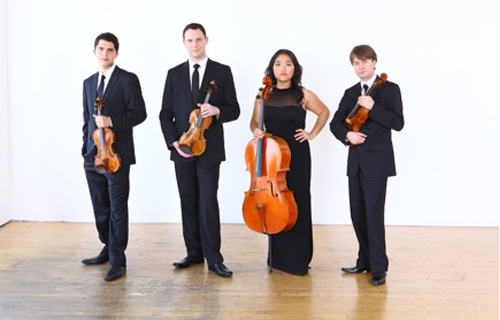 Jeffrey Myers, violin
Ryan Meehan, violin
Jeremy Berry, viola
Estelle Choi, cello
Alan Kay, guest clarinetist

Antonín Dvořák, String Quartet in F Major, Op. 96 "American"
Paul Hindemith, String Quartet No. 4, Op. 22
Wolfgang Amadeus Mozart, Clarinet Quintet in A Major, K.581

The price of a Donation ticket includes a $100 tax-deductible contribution to HVCMC. Ticket sales cover only a fraction of concert costs, and contributions are very much appreciated!
---
"In short, the Calidores balanced intellect and expression in such a way as to make them a pleasure to hear all afternoon. Keep your ears out for these young musicians."
—Los Angeles Times