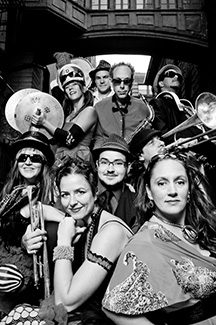 Bard SummerScape Presents
Hungry March Band
Anarchist Brass Band
Tickets:
$20
"The Hungry March Band is a mix of quirkiness and tradition."—
New York Times
Hungry March Band blares forth with a totally original sound that digests music from wherever brass bands are heard—the Balkans, India, New Orleans, Latin America—and combines it with big band, free jazz, and punk rock. Put on your dancing shoes, because they've got a party going on!
Click here
to visit Hungry March Band's website.