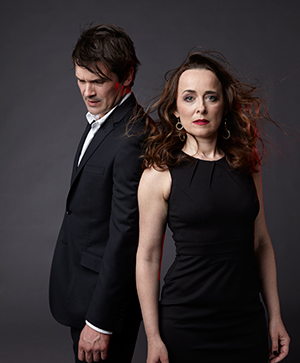 Bard SummerScape Presents
World Premiere of Love in the Wars
A Version of Heinrich von Kleist's Penthesilea
By John Banville
Directed by Ken Rus Schmoll
"I stood there, blinded by the sight of you,
And when you'd gone the form of you
remained, Emblazoned on my eyes."
—Love in the Wars

Penthesilea, Queen of the Amazons, sets eyes on the hero Achilles, and the ferocity of her passion collides with his stubborn will, setting in motion a tragicomedy of love and misunderstanding that threatens to derail the course of history.
Heinrich von Kleist, a contemporary of Schubert's, was one of the most inventive and enigmatic playwrights of the 19th century.
Penthesilea
is his unquestioned masterpiece. Now, internationally acclaimed writer John Banville (best known for his Man Booker Prize–winning novel
The Sea
, and as his alter ego, best-selling mystery writer Benjamin Black) tackles Kleist's funny, explosive, and surprising masterwork
Penthesilea
in a world premiere production by Obie–winning director Ken Rus Schmoll.
Meet the artists

Post-performance discussion with the artists following July 13 and 16 matinees
Creative Team
| | |
| --- | --- |
| Ken Rus Schmoll | Director |
| Marsha Ginsberg | Set Designer |
| Oana Botez | Costume Designer |
| Tyler Micoleau | Lighting Designer |
| Dave Bova | Hair and Makeup Designer |
| Leah Gelpe | Sound Designer |
| Thomas Schall | Fight Director |
Cast
| | |
| --- | --- |
| Birgit Huppuch | Penthesilea |
| Chris Stack | Achilles |
| Jeffrey Binder | Odysseus |
| Chad Goodridge | Diomedes |
| KeiLyn Jones | Agamemnon |
| Karen Kandel | High Priestess |
| Karen Pittman | Prothoe |
| Michael Schantz | Antilochus |
| Stacey Yen | Asteria |
| Harrison Beer '14 | Greek |
| Antonio Irizarry '16 | Greek |
| Hannah Mitchell '13 | Amazon |
| Claire Thompson '14 | Amazon |