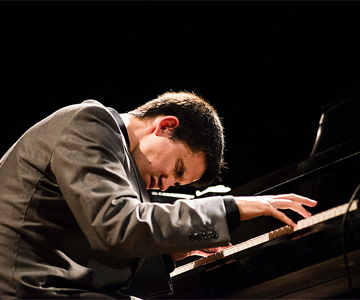 The Fisher Center and Catskill Jazz Factory
Two Americas: Songs of Protest and Reconciliation
With Brianna Thomas, Jeremy Siskind, Justin Kauflin, and Vuyo Sotashe
An evening of songs of power and resistance, protest and reconciliation. Musicians of all genres have shaped a vital tradition of fearlessly speaking truth to power—think of Bob Dylan's wistful version of "Blowin' in the Wind" or Stevie Wonder's soulful remonstration, "You Haven't Done Nothing."
Acclaimed vocalists Brianna Thomas, winner of New York's famed Jazz Mobile competition judged by the legendary Dr. Billy Taylor, Grady Tate, and Gloria Lyn, and Vuyo Sotashe, the very first male vocalist ever to place in the prestigious Thelonious Monk Institute International Jazz Vocal competition, present a concert featuring the music of protest and peace.
Drawing upon this rich songbook of timely messages, they perform beside pianists Jeremy Siskind, winner of the 2012 Nottingham International Jazz Piano Competition, and Justin Kauflin, who has turned the heads of jazz legends from Clark Terry to Quincy Jones.
---
On Jeremy Siskind
"Jeremy Siskind is my favorite all-time pianist."—Lea DeLaria
"A remarkable young pianist . . . a rising star on the jazz scene."—Marian McPartland
On Justin Kauflin
"Simply beautiful cat . . . you can feel it in every note he plays."—Quincy Jones
"Justin Kauflin favors a clarity of touch and ideas. His writing is balanced, tempering post-bop intricacies with the assurances of the gospel church."—
New York Times
On Brianna Thomas
"She may well be the best young straight-ahead jazz vocalist of her generation."—
Wall Street Journal
---
Watch an excerpt from Keep On Keepin' On, a recent documentary about Justin Kauflin's "unlikely jazz connection" with legendary trumpet player Clark Terry.
Watch Jeremy Siskind's performance of jazz standard "Autumn Leaves" for
apexart's
2011 Fred Hersch exhibit.
Watch Brianna Thomas (who the Wall Street Journal says "may well be the best young straight-ahead jazz vocalist of her generation") sing Duke Ellington's "In a Mellow Tone."
Listen to Vuyo Sotashe sing original composition "MaDlamini" on WBGO's The Checkout.