Fisher Center and Live Arts Bard present:
Romeo & Juliet
Nature Theater of Oklahoma
Conceived and directed by Pavol Liska and Kelly Copper
Featuring Anne Gridley '02 and Robert M. Johanson with Elisabeth Conner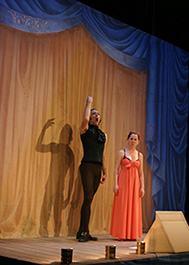 A hilariously deconstructed take on the enduring classic."—
Time Out New York
"Tell us the plot of
Romeo and Juliet."
Thus began a series of phone calls to friends, the exact transcripts of which are performed with vigor and charm by Nature Theater of Oklahoma. As one by one the respondents fumble through the characters and plot points, we realize that when memory lets us down, a necessary creativity takes over. The result is an irreverent and daring romp through Shakespeare's best-loved play, where our fallible recollections take center stage.