Bard SummerScape presents:
Midsummer Dancing: Tango Night
Noche Porteña: The Sensuous Music and Dance of Buenos Aires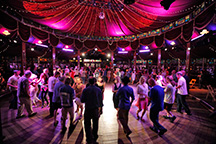 Doors open at 6 pm
Dance instruction at 6:15 pm
Live band from 7 to 10 pm

Woodstock Tango's Ilene Marder once again turns the Spiegeltent into its own sultry Buenos Aires
milonga
(tango bar). Learn how they really tango in Buenos Aires. Join us for an exciting evening of traditional Tango Argentino with live music for social dancing by the Eduardo Parra Quinteto—one of New York City's most popular Argentine Tango dance ensembles, complemented by music from the " Golden Age of Tango" with your host and DJ La Rubia del North, who has spun tunes at famous tango clubs in Buenos Aires.
The night also features a dazzling tango performance by internationally renewed dancers Michelle Erdemsel and Michael Nadtochi, and an introductory class taught by Woodstock Tango founder Ilene Marder. No partner or experience necessary.
For the past four years, tango night has been an enormous hit at the Spiegeltent, packing the house with dancers and tango aficionados of all levels. Advance tickets strongly suggested.