Bard SummerScape presents:
Film Series: Schubert and the Long 19th Century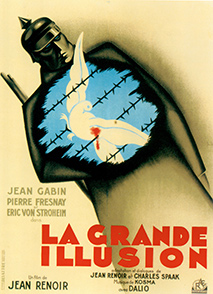 The 2014 SummerScape Film Series will consider the many ways in which Schubert's music and early Romanticism have influenced international cinema. Some films make explicit use of particular pieces—ranging from the nuanced use of "Heidenröslein" in Alfred Hitchcock's Lifeboat to Michael Haneke's modernist treatment of the Winterreise song cycle and Roman Polanski's psychologically charged repetition of the string quartet Death and the Maiden. Others reflect more generally upon the lingering effect of ideas and sensibilities rooted in the period marked by Schubert's brief life.









Schedule
Thursday, July 3

Grand Illusion

Jean Renoir, 1937, France, 114minutes

Sunday, July 6

The Life and Death of Colonel Blimp

Michael Powell and Emeric Pressburger, 1943, UK, 163minutes. Restored by the Academy Film Archive in association with the BFI National Archive, ITV Studios Global Entertainment Ltd., and The Film Foundation.

Thursday, July 10

The Black Cat

Nosferatu

Edgar G. Ulmer, 1934, USA, 65minutes

F. W. Murnau, 1922, Germany, 70minutes

Sunday, July 13

Lifeboat

Waltzes from Vienna

Alfred Hitchcock, 1944, USA, 99minutes

Alfred Hitchcock, 1934, UK, 80minutes

Thursday, July 17

Death and the Maiden

Gertrud

Roman Polanski, 1994, UK/USA/France, 103 minutes

Carl Theodor Dreyer, 1964, Denmark, 119minutes

Sunday, July 20

The Piano Teacher

Michael Haneke, 2001, Austria/France/Germany, 131minutes

Thursday, July 24

A Farewell to Arms

Frank Borzage, 1932, USA, 80minutes. Restored print courtesy of the UCLA Film & Television Archive. Preservation funding provided by The Film Foundation and the Hollywood Foreign Press Association.

Sunday, July 27

Paths of Glory

Stanley Kubrick, 1957, USA, 88 minutes

Thursday, July 31

Fitzcarraldo

Werner Herzog, 1982, West Germany/Peru, 158 minutes

Sunday, August 3

From Mayerling to Sarajevo

Werther

Max Ophuls, 1940, France, 90minutes. New print.

Max Ophuls, 1938, France, 85minutes