Hudson Valley Chamber Music Circle Presents
The Kalichstein-Laredo-Robinson Trio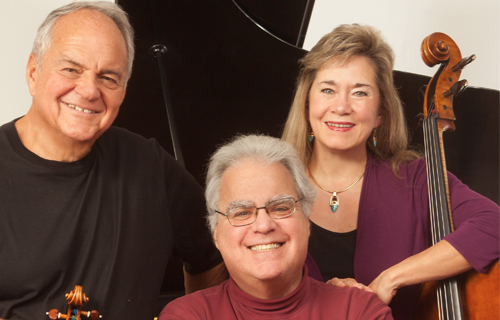 Joseph Kalichstein, piano
Bella Hristova, guest violinist*
Milena Pajaro-van de Stadt, guest violist**
Sharon Robinson, cello

Franz Schubert: String Trio in B flat major, D 471
Wolfgang Amadeus Mozart: Piano Quartet No. 1 in G minor, K 478
Johannes Brahms: Piano Quartet No. 1 in G minor, Op. 25

*Substituting for Jaime Laredo, who is recuperating from hand surgery.
**Appearing in each work on the program.

The price of a Donation ticket includes a $100 tax-deductible contribution to HVCMC. Ticket sales cover only a fraction of concert costs, and contributions are very much appreciated!
---
"Can we just be done with it, and declare the Kalichstein-Laredo-Robinson Trio the greatest piano trio on the face of the Earth . . ."
— Washington Post
---
" . . . foremost trio with the greatest longevity . . . bring(ing) to worldwide audiences their expressive and exhilarating interpretations."
— Musical America