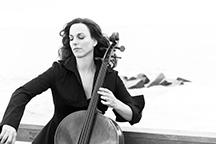 Bard SummerScape Presents
Maya Beiser with Special Guest Donal Fox
The Music of Astor Piazzolla and Beyond
Tickets:
$20 (standing room), $25 (booth), $30 (outer ring table), $35 (inner ring table)
"Ferocious energy and talent"—
New York Times
Dubbed a "cello goddess" by the
New Yorker
, Maya Beiser has captivated audiences worldwide with her virtuosity, eclectic repertoire, and relentless quest to redefine her instrument's boundaries. The
Boston Globe
declares, "With virtuoso chops, rock-star charisma, and an appetite for pushing her instrument to the edge of avant-garde adventurousness, Maya Beiser is the postmodern diva of the cello." Beiser and Fox will perform their unique take on the music of Astor Piazzolla and the early style of tango: a raw, provocative and sensual sound that developed on the streets of Buenos Aires in the 1920s and '30s. The evening will also include original works and arrangements by Fox, and new works developed by Beiser during her residency at the Spiegeltent.
Click here
to visit Maya Beiser's website.
Click here
to visit Donal Fox's website.