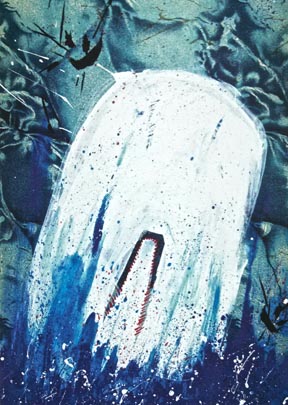 Bard Theater and Performance Program Presents
Moby Dick—Rehearsed
By Orson Welles
SOLD OUT!


October 24, 25, 26 and 27 at 7 pm
October 26 at 2 pm
Tickets:
$15; free for Bard community. Reservations required.
directed by Jonathan Rosenberg
designed by Zane Pihlstrom
lights by Bruce Steinberg
video by Joshua Thorson

music/sound by Antonin Fajt '14 and Math Norman '14
music for church hymn and sailor songs by Ben Hopkins '14
Moby Dick—Rehearsed
is a 1955 play by Orson Welles in which a company of actors gathers in a rehearsal room to work on an adaptation of the Herman Melville novel. In Welles's dramatic experiment the rehearsal is the performance, and a door is opened on the act of theatrical creation.
Cast
Salome Dewell '16, Ishmael/Ensemble
Paul Weintrob '14, Ahab/Ensemble
Harry Beer '14, Starbuck/Ensemble
Sebastian Gutierrez '14, Stubb/Ensemble
Antonio Irizarry '14, Flask/Ensemble
Eleanor Robb '16, Pip/Ensemble
Kate Edery '14, Peleg/Daggoo/voice of Rachel/Ensemble
Dimitri Cacouris '14, Father Mapple/Tashtego/voice of Bachelor/Ensemble
Ben Hopkins '14, Elijah/Queequeg/Carpenter/Ensemble
Running time for this performance is approximately two hours and 10 minutes, with one 15-minute intermission.