The Fisher Center for the Performing Arts at Bard College
Bard SummerScape 2016
July 1 – August 14, 2016
SummerScape tickets go on sale to the general public on February 15

"SEVEN WEEKS OF CULTURAL DELIGHT"
–International Herald Tribune

SummerScape 2016 presents seven weeks of opera, music, theater, dance, film, and cabaret. The prime focus of these offerings is the 27th annual Bard Music Festival, exploring the life and times of Italian composer Giacomo Puccini, one of the most frequently performed operatic composers of all time. The rich arts and culture of turn-of-the century Italy inspire a revival of Pietro Mascagni's art nouveau opera, Iris, directed by James Darrah; Demolishing Everything with Amazing Speed, four futurist puppet plays by Fortunato Depero, directed by Dan Hurlin; Fantasque, a new ballet created by choreographer John Heginbotham and puppeteer Amy Trompetter, to music by Ottorino Respighi; a film series, Puccini and the Operatic Impulse in Cinema; and the return of the magical Spiegeltent, hosted by Mx. Justin Vivian Bond.
Opera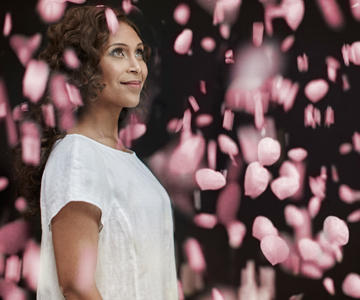 Iris
Composed by Pietro Mascagni
Libretto by Luigi Illica
American Symphony Orchestra, conducted by Leon Botstein, music director
Directed by James Darrah

Composed by Puccini's friend and sometime-rival Mascagni (perhaps best known for his beloved Cavalleria Rusticana), Iris debuted in Rome in 1898, ushering in a wave of fin-de-siècle exotic opera. Pietro Mascagni's dreamlike score provides the backdrop for Luigi Illica's haunting libretto recounting the tragic story of Iris, an innocent young girl tricked into abandoning her elderly blind father and lured to a brothel in Tokyo's notorious red-light district.

The stellar cast is headlined by the radiant Grammy-nominated young soprano Talise Trevigne, lauded for her "deep melting sound" (New York Times) as the vulnerable young Iris. Dashing Austrian-Australian tenor Gerard Schneider portrays the villainous Osaka, and the "stylish and warm-voiced" (Washington Post) bass-baritone Douglas Williams sings the role of the fickle and selfish Kyoto.

Conducted by the "peerlessly adventurous" (New York Times) Leon Botstein, this production by the talented young stage director James Darrah features fantastical set designs by Emily MacDonald and Cameron Jaye Mock with evocative projections by Adam Larsen and elegant costumes by Peabody Southwell—all of which combine to highlight the darker themes of this rarely performed opera.

In Iris, beauty, innocence, and curiosity go hand in hand with disaster.

Special support for this program is provided by Emily H. Fisher and John Alexander.
Bard Music Festival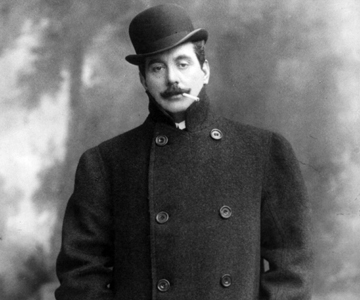 Puccini and His World
The 27th Season
Puccini and Italian Musical Culture
Beyond Verismo
How can the work of a composer who wrote three of the most enduringly popular operas of all time—
La bohème, Madama Butterfly,
and
Tosca
—and three more that are produced regularly—
Manon Lescaut
,
La fanciulla del West
, and
Turandot
—be remotely controversial? But Giacomo Puccini (1858–1924) was and remains an object of controversy. In his lifetime, the popularity of his operas defied the predictions of many critics.
Butterfly,
now an iconic work in the popular mind, was a fiasco at its premiere and
Bohème
was met with only faint praise. Critics derided Puccini for not being Italian enough. He was accused of courting vulgarity and exploiting cheap sentimentality. He was seen as facile and lazy. He failed, with the possible exception of
Fanciulla,
to match the profundity and subtlety of Verdi, the grandeur of Wagner, and the dramatic virtuosity of Richard Strauss. Even Toscanini, with whom Puccini quarreled despite their closeness, harbored serious reservations. After Puccini's death, this criticism blossomed into a tradition of intellectual and academic snobbery marked by condescension and neglect.
At the heart of this so-called Puccini problem rests the shifting place of musical culture in the 20th century. Puccini rose to fame as opera struggled, with declining success after 1918, to maintain its preeminence as a cultural and political instrument in the face of the advent of recorded sound, the popularity of photography, motorboats, automobiles (three of Puccini's obsessions), and, most of all, film. Though Puccini succeeded where others failed, his success was ascribed to various theories of the decline of culture and standards of taste.
Furthermore, Puccini's popularity was worldwide at a time of rapid political change that witnessed the emergence of new nationalisms, World War I, the twilight of European imperialism, and the rise of communism and fascism. What kind of music and art were called for in an era of economic and social transformation? In this context Puccini was regarded as purveyor of escapism, of background music, and kitsch designed to foreground a pseudo-realism with mere effects and melodrama and to mesmerize the public into a state of passivity by appealing to its most superficial constructs of love and death. The abyss between Puccini and Mozart, Wagner, and Verdi seemed as wide as the family resemblance was between Puccini and Franz Lehár of
Merry Widow
fame.
The Bard Music Festival, using Puccini's complex and tortured biography, Italian politics in the years between Garibaldi and Mussolini, Italian arts and letters between Manzoni and D'Annunzio, and Italian music from Verdi to Dallapiccola, will explore Puccini's work and the music of his Italian contemporaries. Concerts and panels will reveal his unique genius as well as the legitimate and troubling issues that have kept debates about Puccini alive. Music by Alfredo Catalani, Ermanno Wolf-Ferrari, Alfredo Casella, Ruggero Leoncavallo, Gian Francesco Malipiero, Pietro Mascagni, Franco Alfano, Arrigo Boito, Ildebrando Pizzetti, Ottorino Respighi, Guiseppe Martucci, Goffredo Petrassi, Ferruccio Busoni, and others will be heard. Several operas will be featured, both complete and major excerpts, including Massenet's
La Navarraise,
Boito's
Nerone,
Catalani's
Loreley,
and the last act of Puccini's
Turandot,
in Luciano Berio's completion, paired with Busoni's setting of the same tale.
Dance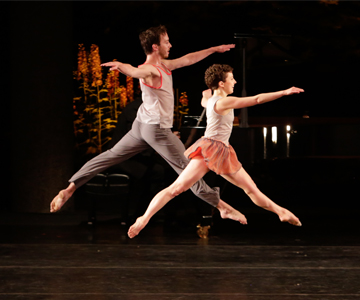 Fantasque

Music by Ottorino Respighi
after Gioachino Rossini
Choreography by John Heginbotham
Puppetry and design by
Amy Trompetter
Featuring Dance Heginbotham
World Premiere


An ebullient and magical pageant created by two brilliant contemporary artists. Choreographer John Heginbotham teams up with puppeteer Amy Trompetter to craft a new ballet set to the gorgeous music of Ottorino Respighi. Giant puppets and human dancers join forces to create an alternate realm of color and fantasy, in which the usual rules of the physical world are turned upside down.

Respighi, a contemporary of Giacomo Puccini, adapted a suite of piano works by Gioachino Rossini to create the ballet score La Boutique fantasque. Sergei Diaghilev's Ballets Russes created the first production in 1919 with choreography by Léonide Massine and designs by the Fauvist painter André Derain. Now Heginbotham, formerly of the Mark Morris Dance Group and choreographer of SummerScape 2015's Oklahoma!, and Trompetter, of Bread and Puppet Theater and founder of the Hudson Valley's Redwing Blackbird Theater, are setting an entirely new ballet to Respighi and Rossini's beloved music, in a major innovative dance performance suitable for the entire family.

Theater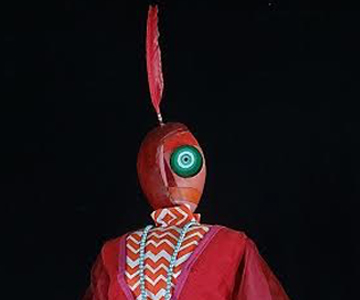 Fisher Center, LUMA Theater
Tickets: $25 – 60
Tickets on sale to the general public:
February 15, 2016
Tickets available on:
Thu. July 7, 7:30pm
Fri. July 8, 7:30pm
Sat. July 9, 7:30pm
Sun. July 10, 2pm
Wed. July 13, 2pm
Thu. July 14, 7:30pm
Fri. July 15, 7:30pm
Sat. July 16, 7:30pm
Sun. July 17, 2pm
Demolishing Everything with Amazing Speed

Futurist puppet plays
by Fortunato Depero
Translated, designed, and directed
by Dan Hurlin
Created by the ensemble
Produced by
MAPP International Productions
World Premiere


A wondrous elevator racing up to the heavens, a rich red woman with a single green eye, a baby smoking a giant cigar. . . . Award-winning puppet artist Dan Hurlin is creating a surreal puppet noir based on four beautiful but disquieting plays written at the height of World War I by the Italian futurist artist Fortunato Depero. Hallucinogenic, fast-paced, and shot through with dark humor, these astonishing plays celebrate the energy and possibility of technology, while revealing the chilling parallels between their time and ours.

Hurlin, who lives and works in the Hudson Valley, discovered Depero's scenarios during a residency in Italy. They have never before been performed, published, or translated into English. Hurlin's unique fusion of puppetry, music, and technology brings Depero's images and visions—sometimes whimsical, sometimes disturbing and violent—to life on stage for the first time. With a live score by Dan Moses Schreier and combining the latest technology, from 3-D printing to sound sampling, with centuries-old bunraku puppetry, Demolishing Everything with Amazing Speed is a rapturous and wholly original wild ride.

Suitable for ages 12 and up

Produced by MAPP International Productions

Spiegeltent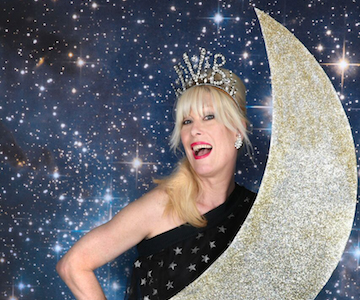 Fisher Center, Spiegeltent

Tickets on sale to the general public: February 15

This event occurs on:
Fri. July 1 – Sat. August 13


The Spiegeltent
Hosted by Mx. Justin Vivian Bond

Legendary cabaret artist and Tony-nominated performer Mx. Justin Vivian Bond returns to host Spiegeltent cabaret for a third season. Mx. Bond creates a realm of sophistication, spectacle, and glamour with the company of world-class performers, musicians and DJs on Friday and Saturday evenings. Thursdays bring a lineup of one-of-a-kind jazz concerts co-presented with Catskill Jazz Factory, and live music accompanies dining al fresco or under the big top before SummerScape performances.

Film Series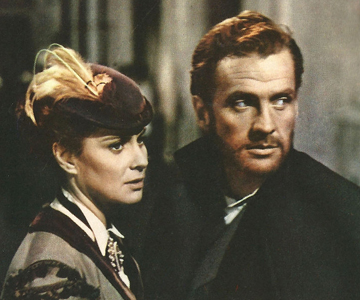 Film Series: Puccini and the Operatic Impulse in Cinema
With its spectacular fusion of the other arts, opera has been an enduring reference point for filmmakers and audiences since the dawn of cinema at the end of the 19th century, precisely the moment of Giacomo Puccini's artistic ascendancy. The 2016 SummerScape Film Series will explore the influence of Puccini's work and of operatic emotion on innovative films in all periods. It will include both cinematic adaptations of operas like Madama Butterfly and creative responses by directors such as Sergio Leone and Martin Scorsese. Special attention will be paid to the cinematic legacy of Luchino Visconti, whose explicitly operatic work has inspired several generations of filmmakers.